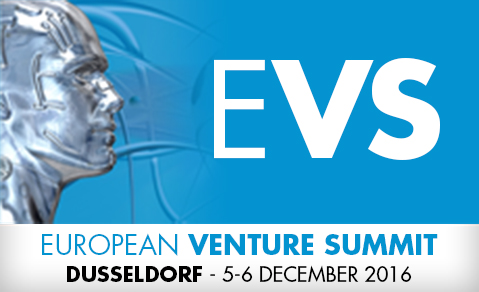 The
European Venture Summit (EVS) 2016
is taking place in
Dusseldorf
on the
5-6 of December
. EVS 2016 is the leading event for bringing together high-tech entrepreneurs, VCs, and corporate investors active in the European start-up scene. Full list of participating investors can be found
here
.
Over 100 top emerging companies in ICT, Life Sciences and Cleantech will
pitch their businesses in front of a panel of 120 leading international investors
looking to invest in high-tech emerging European companies. The programme also includes 4 Growth Academy Master Classes covering board management, fund raising, corporate partnership and investment term sheets, to help presenting companies position themselves as leaders in their field.
PNO funding experts
Nader Akil and Luk Aerts will provide detailed information on
how to access public funding
during a
Master class
on the
5th December
. Additionally PNO clients can get 25% discount on the registration fee if they wish to attend the event and pitch their ideas to VCs and corporate investors by using the code
PNOConsultants25
.
For more information and to register for EVS, please visit:
www.e-unlimited.com/EVS
. If you wish to have more information about the event please contact Nader Akil
nader.akil@pnoconsultants.com