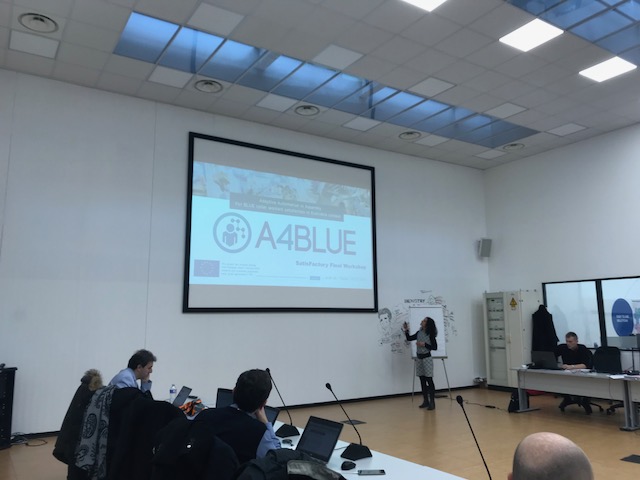 CiaoTech/PNO group and Illogic represented A4BLUE project during the SatisFactory H2020 Project Final Workshop. Parners were proud to joined it to share knowledge and experiences on innovative solutions for Factories of the Future.
The Final Workshop took place in COMAU S.p.A. premises (Turin, Italy) on December, 15 2017 and its scope was to present the project's final achievements to representatives of similar initiatives, like A4BLUE, and selected experts in the field, in order to collect valuable feedback and suggestions for future improvements, by means of tangible demonstrations of the SatisFactory's solutions, as deployed in the industrial environment of COMAU S.p.A.
This was also the occasion for A4BLUE partners to present the project to valuable experts and EFFRA representatives and have the opportunity to learn from other European funded project developing innovations in the field of Industry 4.0.
Thanks to all participants for the great contributions!


See the photo-gallery at: https://www.flickr.com/photos/148966658@N06/albums/72157688514923482

Want to know more on A4BLUE? visit the project website or the LinkedIn profile.