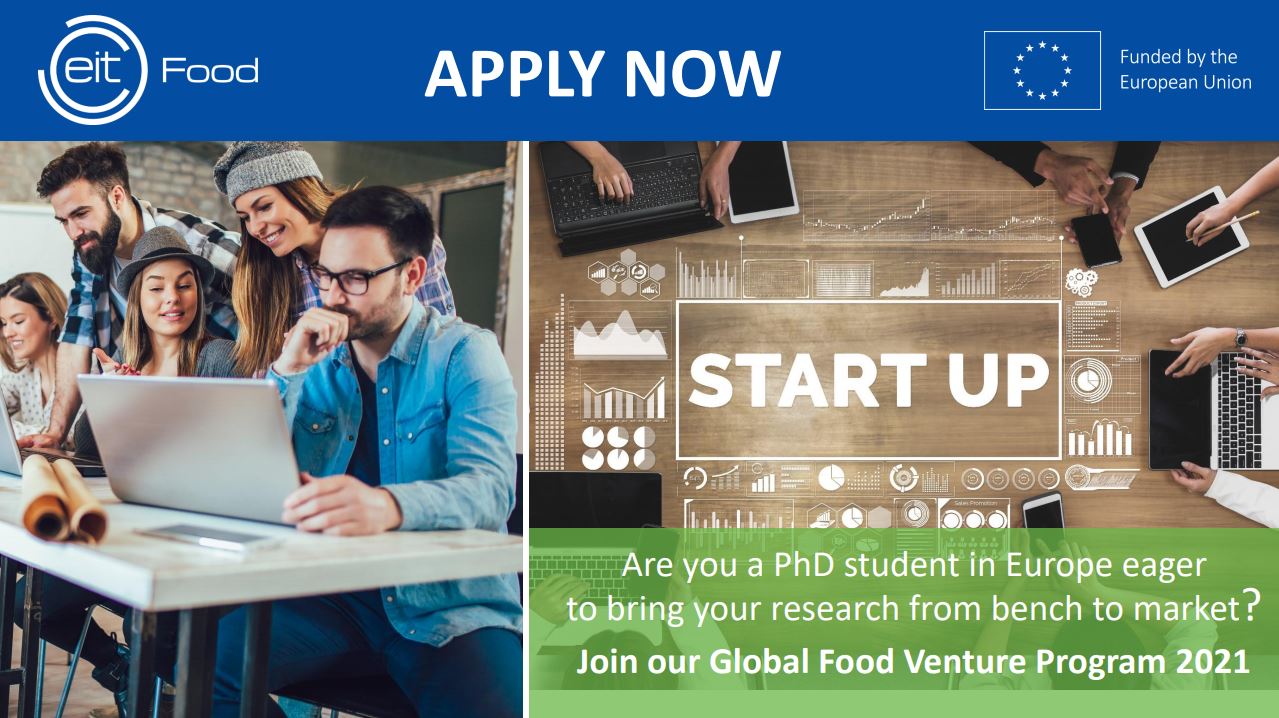 Are you a PhD student eager to turn your innovative research into a start up in agri-food space? Join our 6-month Global Food Venture Programme!
The Global Food Venture Programme (GFVP) supports highly qualifed PhD students from across Europe to turn their innovative research into viable business ideas in Food & AgTech space.
It offers a 6-month curriculum designed to address the needs of aspiring entrepreneurs and early phase start-up ventures from PhD students. The programme offers two independent stages (Stage I & Stage II), which can be completed in consecutive years or within the same one. The 2021 Stage II edition will conclude with a Final Competition Event, where students will pitch their business plan in front of a jury and have the chance to win up to 10K cash prizes for best start-up project.


Along the 6-month journey, the participants are supported with one-on-one Business Coaching to advance start-up ideas and create solid business propositions in food & AgTech space.
Stage II is offering two incubation bootcamps in June and September with international experts, industry partners, and key players of the agrifood system. The GFVP is EIT Food's special education offering for top-notch Doctoral Students from across Europe, thirsty to move the needle in transforming the food system.
Please visit the EIT FOOD GVFP website to learn more about the programme and how to apply.
Stage II is designed to incubate very early-phase or idea phase ventures in food & agriculture space by PhD students. Your idea has to be research-based, with the potential to be commercialized and ideally, generate a social or environmental impact.
Stage II application deadline: 13th June, 2021
Stage II entry fees: € 300 (in two instalments June, Sep 2021)

The programme is run by EIT Food and 9 university partners. Since its launch in 2018, the programme has supported 111 PhD students spanning over 23 European countries, 43 nationalities and 61 academic institutes.
Furthermore, in only three years, the GFVP has proudly supported 57 female participants (F:M 50%), which demonstrates strong interest in entrepreneurship by women leaders who wish to drive the positive change within the food sector. Learn more at: https://www.eitfood.eu/projects/global-food-venture-programme.


Contact: GFVP Activity Lead – Dr. Chryssa Dimaki of Technical University Munich, Dimaki@zv.tum.de

This activity has received funding from EIT Food, the innovation community on Food of the European Institute of Innovation and Technology (EIT), a body of the EU.