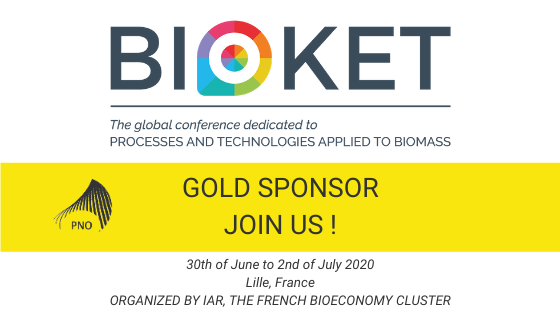 PNO Consultants is Gold Sponsor of the BIOKET 2020, organised by the IAR bioeconomy cluster, which will take place in Lille from 30 June 2020 to 2 July 2020.
The bioeconomy in the spotlight!
BIOKET 2020 is an event dedicated to innovative processes and technologies applied to biomass. A targeted conference programme will focus on topics such as advanced and innovative biomass pre-treatment, biomass conversion and operation technologies, biomass extraction, separation and purification, process modelling and analytical methods and tools, innovative tools, bioprocess design, advanced fermentation, etc.
Find the program and the speakers on the dedicated website.
VALUEMAG will organise its final workshop
VALUEMAG is a H2020 BBI JU project that aims to develop an innovative method for the cultivation and harvesting of microalgae at low cost. And what could be better than an event dedicated to biomass to organize its final workshop?
PNO Consultants is a member of the consortium on this project and is in charge of the stakeholder analysis, the communication & dissemination and the exploitation plan. PNO will be present at the workshop to present the exploitation results.
The final workshop will be held after the BIOKET 2020, on 2 July 2020 from 14:00. Registration is free of charge.

Please note that the event was originally planned on 10-12 March and it has been postponed because of the spread of Coronavirus COVID-19 in Europe.