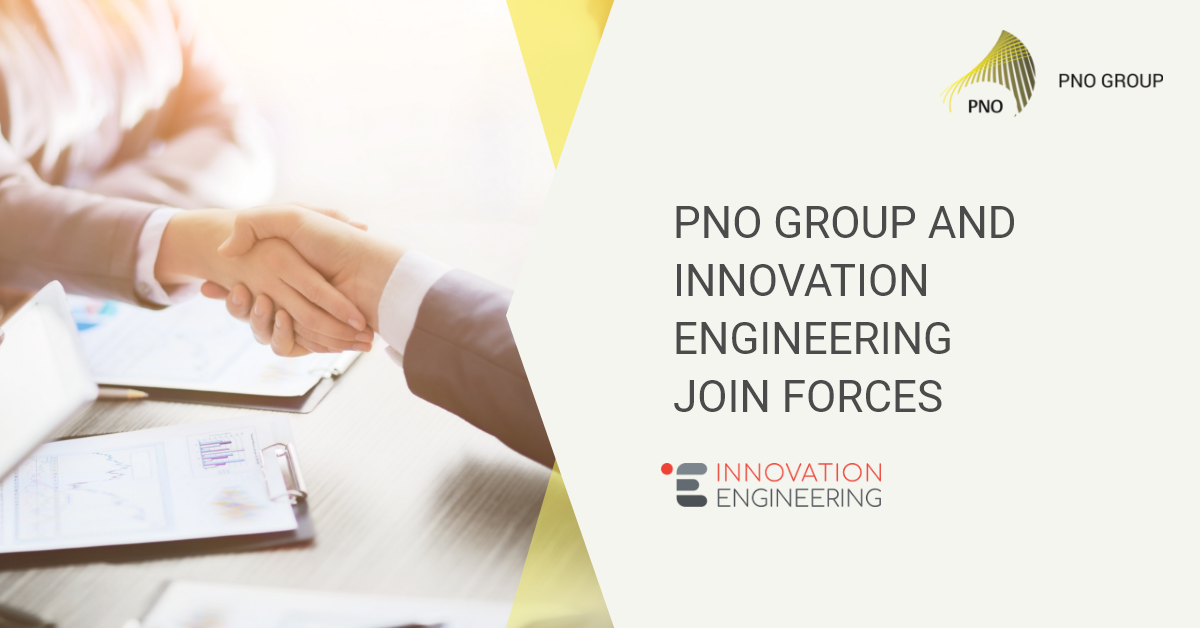 PNO GROUP AND INNOVATION ENGINEERING JOIN FORCES
The European innovation and grants consultancy PNO Group and IT developing company Innovation Engineering have joined forces. PNO is one of Europe's leading grant and innovation consultancies, with over 400 specialists working from eight countries across Europe. Innovation Engineering specializes in artificial intelligence and algorithms applied to innovation processes. The Italian-based company employs 30 highly specialized IT professionals.
A proven track record
Paolo Salvatore, PNO Group board member, sees an important role for Innovation Engineering within the group. "In our business as a leading consulting service provider in innovation and access to R&D public funding, analysis of data and information is an essential part of the process. The quality of our services is strongly influenced by our deep knowledge of sectors' dynamics, the state of technology and all stakeholders involved. IT tools favouring open innovation and the analysis of millions of documents through artificial intelligence are essential to support our clients in a data-driven innovation process. The challenge today is not only to obtain and easily access information, but to be able to analyse it, interpret it and use it as a catalyst for innovation processes. Innovation Engineering has a proven track record in this area. A concrete example is the AI-based tool Wheesbee, which allows us to harvest hundreds of millions of documents and provide clients with analysis on the maturity of their technological systems, on the impact of the innovation process, and on the quality and novelty of their projects. In the current climate, where innovation is a critical success factor in almost every sector and market, the cooperation with Innovation Engineering therefore represents an enormous strengthening of the PNO Group's proposition."
Making a difference
The PNO Group and Innovation Engineering are no strangers to each other. Valeria Marino, CEO of Innovation Engineering explains: "Ever since our establishment, we have been working in close cooperation with PNO. For example, we built for PNO Group Matchpoint and Innovation Place , the Praktijkleren and the WBSO platform and the Budget Monitoring Tool, supporting PNO in the digitalization of internal processes to offer greater add-value services . With our cutting-edge skills, experience, and tools to develop Open Innovation solutions and to facilitate technological innovation, and Wheesbee enabling data and information driven services, I am convinced that, now that we are joining forces with PNO, we will be even better placed to make a difference to PNO and its clients."
Facts about PNO Group
With offices in Belgium, France, Germany, Italy, the Netherlands, Spain, the United Kingdom and Portugal, the PNO Group has a solid base to offer its grants, innovation and compliance services to clients from all over Europe and beyond. Through brands such as PNO Consultants, Ciaotech, EGEN, Arttic, Nehem and ttopstart the Group holds a strong position in the sectors energy, mobility & supply chain, climate & environment, aerospace, security, defence, life sciences & health, and ICT. PNO Group offers high end grants and innovation consultancy to more than 2,000 organisations and 4,000 research clients and partners yearly.
Innovation Engineering facts
Innovation Engineering employs 30 highly specialized IT professionals, with offices located in Rome, Naples and Milan. The company is specialized in artificial intelligence and algorithms applied to innovation processes. Its client base includes multinational companies, SMEs, and public bodies. The company also participates in several research projects co-funded by the European Commission and by regional governmental bodies. Innovation Engineering is ISO 9001 and ISO 27001 certified.